M3 Push Top Ccell Cartridge
This cartridge is coming with a push top and plastic tank. With tamper-proof design, it may be a good choice for your oil.
Tamper-proof design
Push top
Ceramic core technology
Plastic tank and mouthpiece
| Item | Specs |
| --- | --- |
| Capacity | 1.0ml/0.5ml |
| Feature | Press top |
| Oil Holes Size | 4*2.0mm |
| Heating Element | Ceramic Core |
| Coil Resistance | 1.4 Ohm |
| Threading | Standard 510 Thread |
M3 Push Top Ccell Cartridge
The M3 push top cartridge is designed with thick oil. Since it is structured with Polycarbonate housing and a plastic mouthpiece, the cost is very economical. The press-on mouthpiece can not be removed and an arbor press tool is required. Compatible with most 510 thread vape batteries, but best for the Ccell M3 auto draw battery.
*Ccell means Ceramic Core Technology, not the brand of "CCELL".
Tamper proof with Child-resistance
The M3 push top cartridge is a disposable, tamper-proof design. Once the mouthpiece is capped on, it can not be removed. Wholesale this cartridge will bring a benefit that protects your pure oil and consumer can not refill it with other liquids.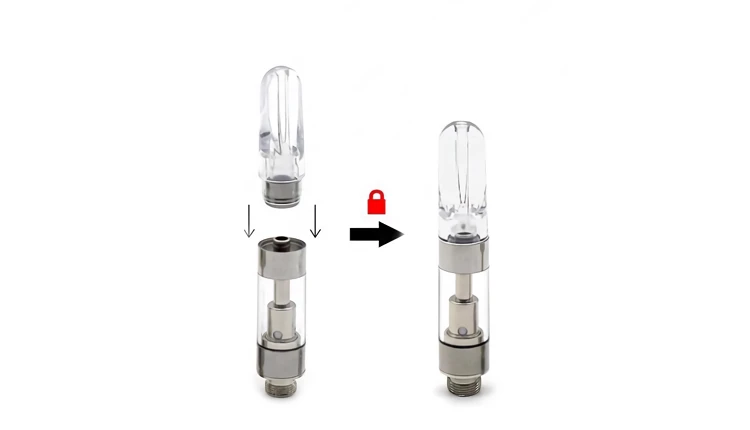 Features&Tech Specs.
Features:
Ceramic core
Meet heavy metal testing requirements
Lead free cartridge
Pyrex glass
Easy press & Tamper proof
Specification:
Volume options: 0.5ml&1.0ml
Oil holes size: 4*2.0mm/Custom available
Dimension: 10.5mm*55mm(0.5ml) /10.5mm*67mm(1.0ml)
Coil Resistance: 1.4ohm
Universal 510 threading
Wholesale Ccell M3 cartridge
Multi-color Mouthpiece Options
Since the M3 Ccell push top cartridge is using a plastic mouthpiece, multi-color options are an advantage. You can choose the mouthpiece from a transparent color to a solid color.
Easy to customization
When customizing this cartridge, we provide more choices. You can customize the top and bottom decorative ring colors and add a silk-print logo on the tank. Also, choose a suitable color mouthpiece for your cartridge.
Contact us to learn more about custom vape cartridges.
Buy wholesale Push top Ccell Cartridge