Custom Vape Pens
Private Label | Branding | Hardware | Packaging
Vaporizer Customization&White Lable Service
We all know the importance of well-designed brand products. VapenSupply offers white-label service for all of our cannabis vaporizer products- from colors, printing, and more. We do not only provide custom branding on vape cartridges, 510 thread batteries, disposable vape pens but vape packagings. All custom vaporizer products have MOQ requirements, contact our sales team to learn more details.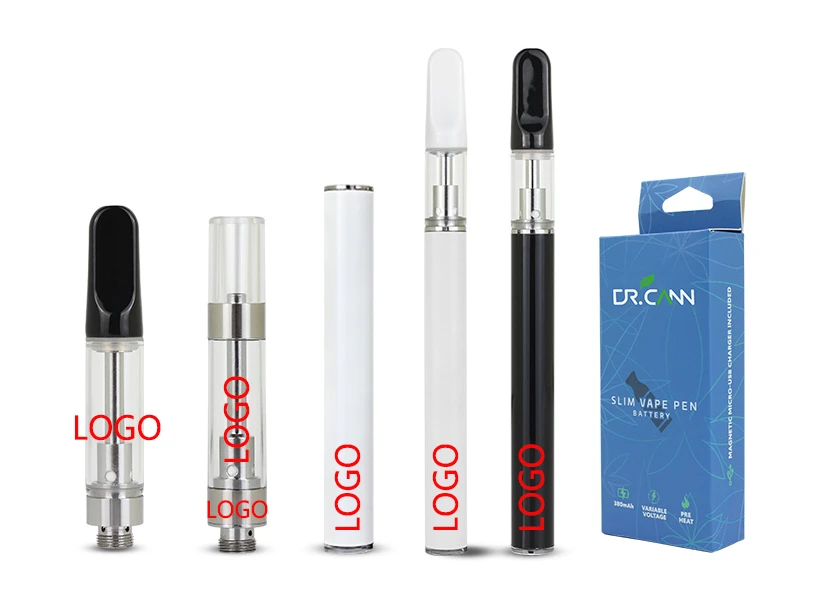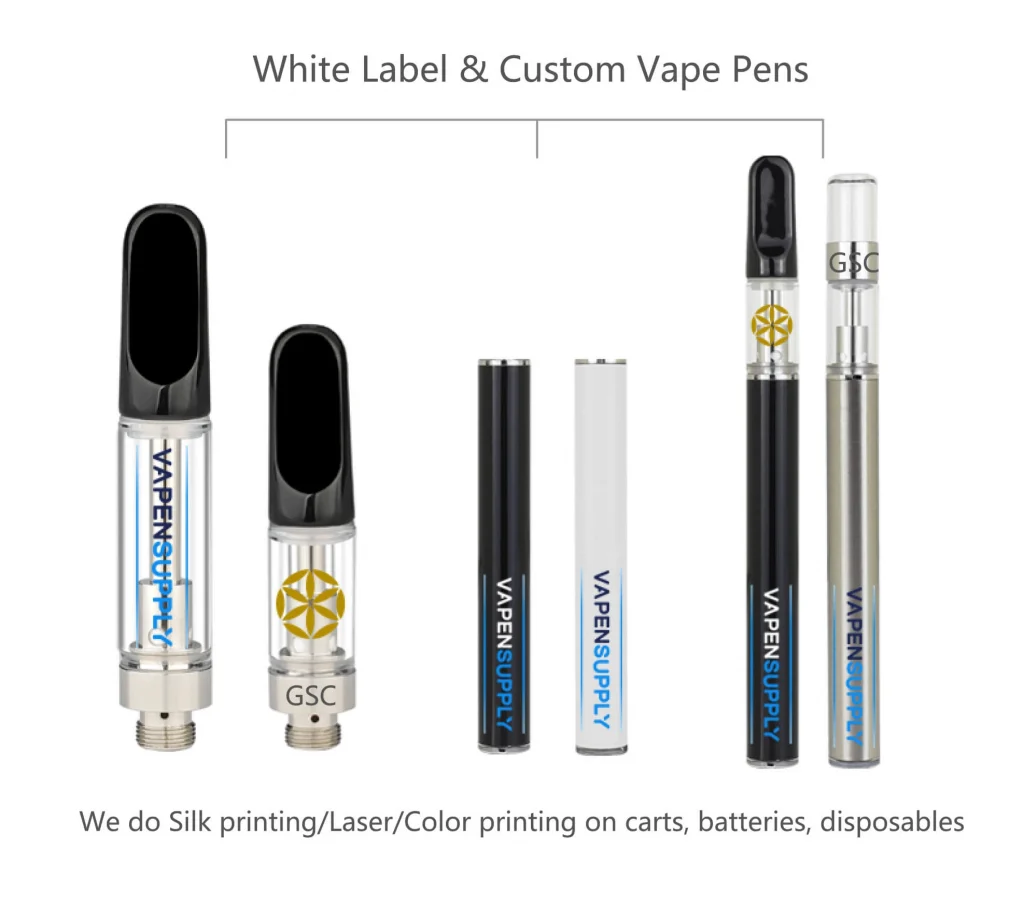 WHITE LABEL
PRIVATE LABEL | OEM | ODM
We offer a wide range of vaporizer products for customization from empty vape cartridges, 510 thread batteries to disposable vape pens. White label vaporizer products will elevate your branding to the next level.
We can do silk printing your logo on the glass cartridges, vape pen batteries, and disposable pens. Laser your logo or strain on the metal part. Custom design and color are available at VapenSupply.
We provide unlimited changes until you are satisfied, because we understand that it is important to your brand.
Custom Your Color or Finish
Want a different color or finish stand out among competitors?
Custom Now
Brand It with Your Logo
Printing your logo on vape carts or vape batteries to bring your sales up!
Custom Now
CUSTOM PACKAGING
DESIGN | CHILD-PROOF
A well-designed vape packaging will bring your brand stand out against the competition. We have the ability to print custom Pantone colors, turn your branding idea to design. 
We have partnered with the best packaging supplier to guarantee packaging quality and fast turnaround.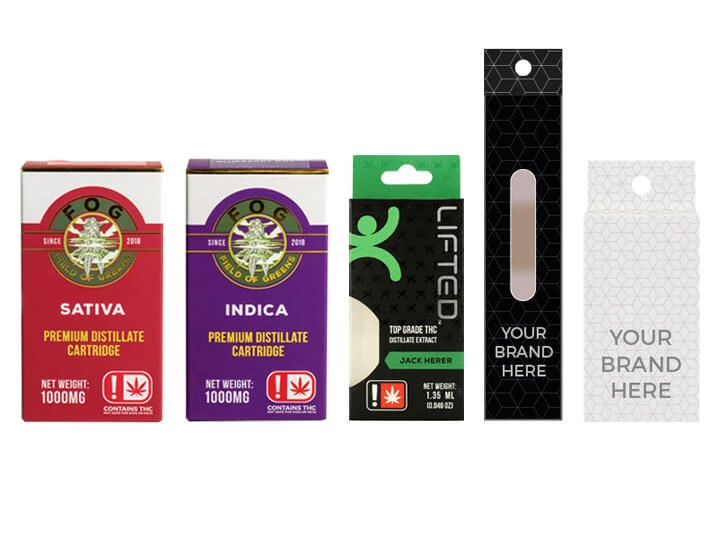 Vaporizer Customization and Branding
Custom Printed Vape Cartridges, Batteries & Packaging
The Best Vape Hardware For White Label
M4 Glass Ccell Ceramic Vape Cartridge
This M4 Ccell cartridge is our best-selling empty oil cartridge, with annual sales of more than one million. The M4 glass vape cartridge comes with optimization ceramic core technology and 4 big oil holes-2.0mm- it is the best choice for your brand. Another advantage is the lead free materials, this cartridge has already passed the heavy metal testing.
M3s Variable Voltage 510 Battery
This 510 threading battery is a variable voltage and preheating vape pen battery. With 350mah build-in high grade battery, it provides more power than you imagine. 3 heat settings and preheating function bring you a customized different vape experience. The bottom micro USB charging makes the M3s more convenient than the original ccell M3 battery.
M1 Ccell Disposable Vape Pen
A disposable vape pen is a portable vaporizer product that you can carry it on-the-go. The M1 pen is the most popular vaporizer vape pen on the market because of the ccell technology. Built with ccell glass cartridge and auto draw vape battery, the M1 ccell disposable pen is easy to use and customize. 350mAh battery, ceramic core, big intake holes make this vape pen standing out from others.
Are you a company wanting to get into the oil vaping industry? Or maybe you're already selling ceramic vapes and accessories and want to expand your product line? If you are, then partnering with VapenSupply provides you with vaporizer products and solutions that meet your needs.
As a white label manufacturer, we have the facilities, in-house research team, and testing laboratories to offer a broad range of ready-to-sell products for business retailers. All you have to do is provide us with your brand label design or logo, and we'll do the rest. You can choose from a wide range of empty ceramic vaping products to start your brand or to expand the business you already have.
Benefits Of White Label Oil Vape Products
Having your very own oil brand has never been easier. Simply choose from our wide range of vaporizer products from disposable pens to pen batteries, oil cartridges and more, we guarantee we have the highest quality vape hardware products that help your business make a mark in the market.
Some of the benefits of partnering with us include:
Get started with very low capital. We take care of all the manufacturing and production side of the business.
No need to apply for a manufacturing license that's costly and time-consuming.
Have direct access to hundreds of vaporizer products to choose from.
Meet your customers' needs, no matter what they are – from ceramic vape cartridges to 510 vape batteries and disposable vape pens, we have them all.
Ready-made products with quality assurance.
Be able to immediately market and sell products.
More focus on returns of investment and fast turnaround.
Here at VapenSupply, we stay true to our mission of providing the highest quality wholesale vaping supplies and hardware manufacturing needs for start-up and established oil brands in the market.
When you want to build an oil vaping brand today, partnering with an established and reputable white label vape manufacturer is the best way to get started.
Stand Out Against The Competition.
Talk to us about the white label and color options.