FC1 Full Ceramic Vape Cartridge
The FC1 full ceramic vape cartridge is the most popular ceramic vape cartridges on the market.
Tamper-proof design
Full ceramic cartridge
Ceramic core technology
10.5mm Ccell compatible
| Item | Specs |
| --- | --- |
| Capacity | 1.0ml/0.5ml |
| Feature | Press top full ceramic |
| Oil Holes Size | Two oil holes-1.0mm(H)*2.0mm(L) |
| Heating Element | Ceramic Core |
| Coil Resistance | 1.2 Ohm |
| Threading | Standard 510 Thread |
FC1 Full Ceramic Vape Cartridge
The revolutionary full ceramic technology brings an upgrade to ceramic vape cartridges. The FC1 full ceramic vape cartridge does not contain any metal inside, the oil will not contact any metal part, thereby reducing the leaching of heavy metals into the oil. The FC1 is one kind of lead free cartridge that passed the heavy metal testing.
*Ccell means Ceramic Core Technology, not the brand of "CCELL".
Non-Refillable/Tamper-Proof
The FC1 full ceramic cartridge is designed with a press-on ceramic mouthpiece, similar to the M3 Ccell cartridge, the mouthpiece is non-removable.
While differing from the plastic M3 push top cartridge, an arbor press tool is not required for the FC1 full ceramic cartridge. Once filled with the cartridge, you can snap on it with your hands and please remember to twist the mouthpiece after snapped on.
Features&Tech Specs.
Features:
Disposable cartridge
Press-on mouthpiece
Full ceramic center post
Ceramic core
510 standard thread
Specification:
Volume options: 0.5ml&1.0ml
Oil holes size: Dual holes- 2mm*3mm
Dimension: 10.5mm*62mm(1.0ml)/10.5mm*57mm(0.5ml)
Coil resistance: 1.4ohm
Wholesale FC1 Full Ceramic Vape Cartridge
Large Intakes&510 Universal Thread
The FC1 full ceramic vape cartridge comes in dual intake holes – 2.0mm*3.0mm, which makes this ceramic cartridge fits for thick oil.
Benefit from 10.5mm diameter and universal 510 thread, the FC1 ceramic cartridge is Ccell compatible and fits all 510 thread vape batteries on the market.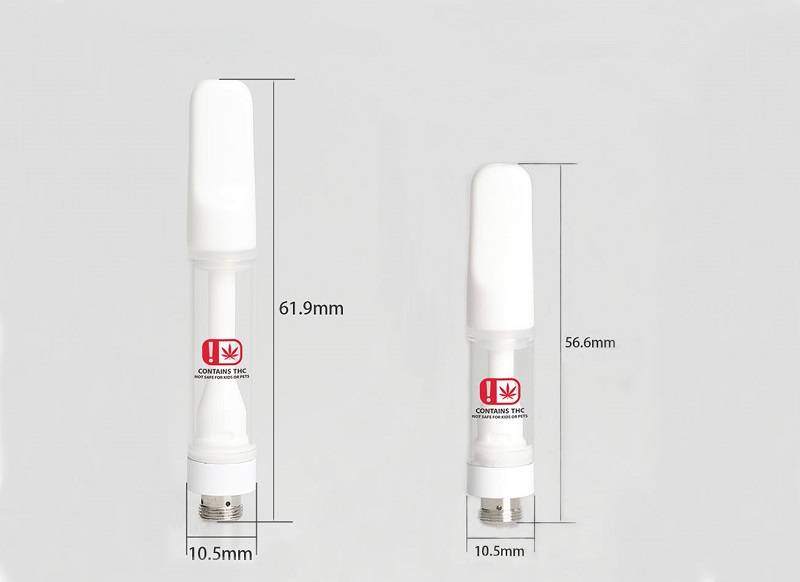 Customization Available
We provide wholesale&OEM service on the FC1 full ceramic vape cartridge. We accept customized logos and printing on the glass&bottom band.
Customization is available on both 0.5ml and 1.0ml cartridges.
Learn more about our custom service.
Buy wholesale easy press cartridge